At about 9:15AM PST on Sunday, May 31st, 2009, I used the "Report Abuse" link on Flickr to send the following message:
I have found two spammers, one of whom has spammed in a comment on one of my photos.

This user has been spamming in photo comments:
http://www.flickr.com/photos/bossmoney/

You can see many pages they have spammed via Google:
http://www.google.com/search?q=site:flickr.com+letsshone

A lot of those are also spammed by:
http://www.flickr.com/photos/38933554@N06/

Again, Google will show part of their trail:
http://www.google.com/search?q=+site:www.flickr.com+igetmoney305

As of this writing, all these spams have been left roughly in the last eight hours, and the timestamps vary, making it -appear- as if they are being manually spammed (not by an automated process).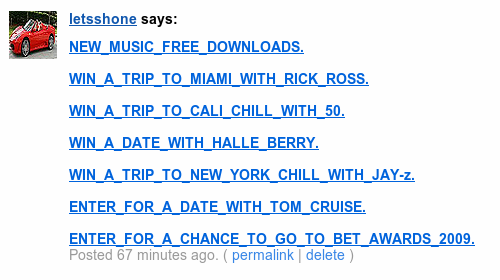 I'm curious as to what the response time will be. I'm a reasonable person on time to get things done. This isn't image theft, so it doesn't have to go through Yahoo!'s copyright infringement hullabaloo.
Update: I checked back at 12:10PM (same day), and the spamming user's account has been deleted, and their spam comments removed as well. Quite timely! I expected to see things taken care of maybe by Monday evening. Even though my account being a paid-for "Pro" account had nothing to do with the response time (I'm quite certain), it feel better about having a paid account with Flickr when I see response times.
I should note that the person who left the comment spam on one of my photos' pages was an account clearly created for this purpose. They had only one photograph uploaded (and I don't know if that was even their own photo; it was used to make their avatar), and otherwise they had the account to post links in photo comments.
I wonder if Flickr would have handled it differently if it were an account of a previously upstanding Flickr user, in which case it could be the case of an account having been hacked into (possibly due to a simple password). Well, I'm not going to start posting comment spam to find out what would happen!