Recently I bought "Nutcracker and Mouse King and The Tale of the Nutcracker" (electronic book format). Thank goodness it's easy to strip off the DRM!
Besides the obvious reason (my Boox cannot view DRM-encumbered files), notice this passage from a scene involving Marie, Clara (Clärchen), and Nutcracker. Fritz is asleep in bed, and does not appear in this scene. I've added red and blue colors to highlight what I'm referring to.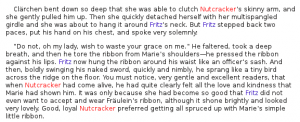 Thankfully I can unzip the file, correct this error, re-zip it, and continue. Some people might say to just pretend it says "Nutcracker", and move on, but I'm weird in that I couldn't continue reading these past two weeks until I took the time to fix it.